OPGW Cable Pusher, Firberglass duct rod Blow-in System Maching, Pipe Blow-in Conveyor Tractor
Optical cable Tractor adopts humanized design, simple operation, one person not only operates the machine, the equivalent of 4-5 people's labor, greatly reduces the labor cost of the enterprise expenditure, for the enterprise has brought greater benefits. Our factory specializes in the production of optical cable tractor, FRP perforation device, plastic pipe, motorized grinding, cable trailer, cable pulley and other equipment, scientific research and development, manufacturing, installation and construction as a whole, strong technical force, sophisticated production equipment, testing equipment. The production of optical cable tractor performance is excellent, track using high-strength wear-resistant rubber, so that the cable force is uniform, durable wear-resistant, high mechanical strength, long service life.
Product principle and use:
1, optical cable tractor machine is mainly composed of engine, variable box, transmission device three parts, transmission device jaws using up and down to give way, so that the optical cable effective free.

Traction machine with gasoline engine as the power source, through the variable box to drive the spindle of this wheel chain, chain bite conveyor belt, to achieve linear motion, the machine also installed support rod to support the machine in the operation of the fiber optic reaction force, to maintain the transmission of optical cables when the machine does not move.
2, the machine operation is simple, manually start the machine after the four Operation gear for (push, fast pull, air block, slow pull) to select the required gear. Before changing gears, the throttle must be adjusted to the idle state, put on the gear after the control of the throttle on the hand can be operated.

Turn off the extinguishing switch when you have finished using it.
1. traction: >300 KG

2. traction maximum speed: 60m / min

3. Applicable cable: 48 core - 288 core or cable diameter greater than 13mm

4. engine power: 4KW

5. machine weight: 100KG
6.Gears: Push, fast pull, empty, slow pull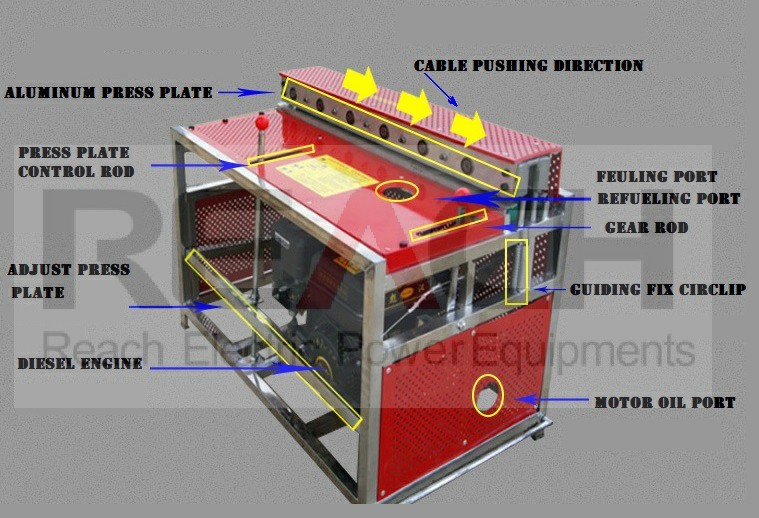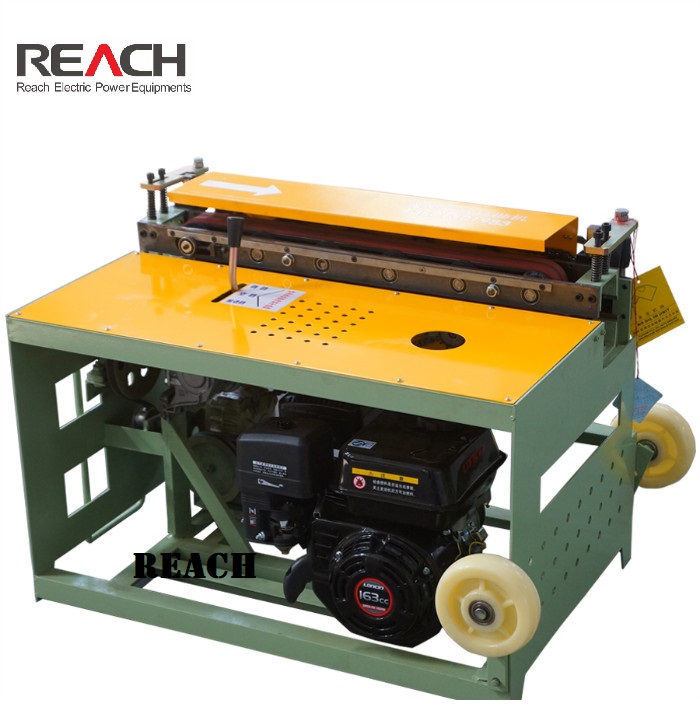 Other Cable Laying Devices
Cable Crimping Sleeve Protector
Cable Pulling Grip, Swivel Connector
Cable Crimping Equipments
Watch vedioes on Youtube:
New Product: Romote Controal Drone for Laying Denima Rope
Check vedio on YOUTUBE to see how it works:
https://www.youtube.com/watch?v=2LwmxN8Jcgo

Power transmission stringing tensioner:
Check vedio on YOUTUBE to see how it works:
https://www.youtube.com/watch?v=puhS4_uMTKg

tensioner and puller work in the field:
Check vedio on YOUTUBE to see how it works:
https://www.youtube.com/watch?v=nJ1YVvOr5s8

Produce scene of stringing block
https://youtu.be/-3OjvyA5Ato

Horizontal direction drilling rig
https://youtu.be/bAhm5BtylsI

firberglass duct rodder
https://youtu.be/i8kZ4FjIBQM